She saved the world. A lot.
I didn't discover Buffy the Vampire Slayer until sophomore year of college, years after the original series had ended. I checked out the first season on DVD from my university library, vaguely remembering half an episode I'd watched at a friend's house in middle school and looking for some way to procrastinate. (This is pre-Netflix, folks.) I had no idea what I was getting myself into.
From the very first wolf-howl in that old-school opening credits montage, I was hooked. No, scratch that–I was in love. Set against a delightfully 90's backdrop of denim skirts, pleather jackets, and fluffy bangs, the show sucked me in with its tight writing, colorful characters and yes, its heart. I commandeered the communal TV, let my roommates know who was the new head of the household (Buffy Summers, obvs) and settled in for one long, wild ride.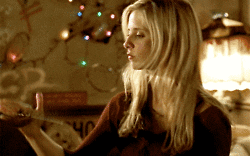 The heart and soul of the show is, of course, Buffy Summers, a sixteen-year-old California blonde with a petite frame and skimpy outfits who just happens to have superpowers. There's a line in the first episode where a voice-over explains exactly who Buffy is:
In every generation there is a Chosen One. She alone will stand against the vampires, the demons, and the forces of darkness. She is the Slayer.
I remember one word always stuck out at me in that introduction, and it was the word alone. She alone will stand against the forces of darkness. In all the billions of humans on earth, Buffy was the only one with the power to face down evil. How's that for female empowerment! But Buffy was never a steely-eyed warrior raised from birth with a stake in her hand. No–Buffy was the kind of female superhero I'd been looking for my whole life: spunky with a side of snark, who still had to worry about homework, bad hair, and mean girls when she wasn't saving the world from ancient vampires with fruit punch mouth or ravening demon hordes from Sunnydale's unfortunate Hellmouth problem.